The Symposium will be held at the "Karolos Papoulias" Conference Center, located in the University of Ioannina Campus, 7 km away from the Ioannina city center.

The Campus can be reached by:
local bus; bus lines 16 and 17 depart every 10 minutes from the city center
taxi; you may conact at +30 26510 46777 24h a day for a TAXI service from any place in Ioannina city to the Symposium Venue
private car; around 15-minute drive from the city center
Accommodation in Ioannina should be arranged by the participants. A list of hotels that have easy access (bus, taxi, car) to the University Campus and offer reasonable prices is given below. 
In addition, six (6) double rooms will be available for students at the "Stavros Niarchos" Dormitory, adjacent to the Epirus Science and Technology Park. The rooms come at 20 €/person/night and will be allocated on a "first-come,  first-served" basis.
For information regarding accommodation, please contact Zina Eleme (T: +30 26510 08552) or the Organizing Committee.
HOTELS IN THE CITY CENTER
HOTELS IN THE OLD TOWN (IOANNINA CASTLE)
HOTELS CLOSE TO THE CITY CENTER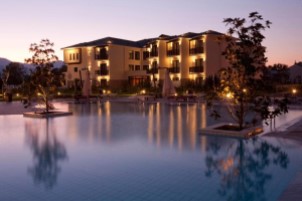 Hotel Du Lac Congress Center & Spa *****
Papoulia & Ikkou Str.
T: +30 26510 59100
E: info@hoteldulac.gr
HNPS2022 will be held on October 7-8, 2022, in Ioannina
NEW Deadline: July 8, 2022